Cloud based applications are now taking a front row seat in field data collection and asset management. The majority of users have smart phones in their pockets and can use these to collect data in the field. As data collectors you have choices from ESRI on how to collect data in the field. In the following blog post we will be comparing ESRI Collector and ESRI Survey123.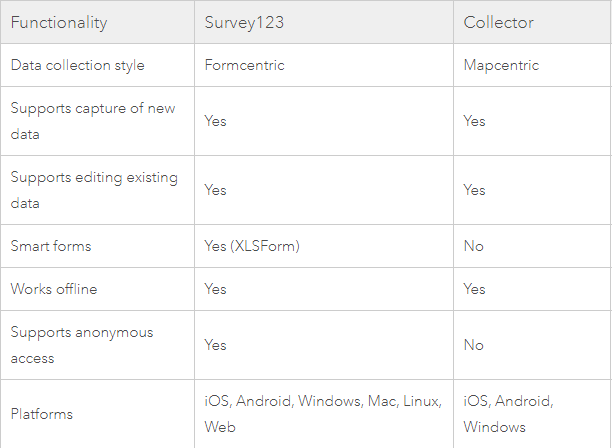 Click here for more information
There are a few differences between the two applications themselves.
The main difference is that Survey123 is a formcentric app as Collector is a Mapcentric app. What this means is that form-centric app is focused on a list of questions, as where Collector is focus driven on collecting your data on a map.
Survey123 also allows the use of smart forms. This allows the creator to have required entries as well as conditional statements.
Survey123 also allows for anonymous access to your created forms. This is an ideal solution for users who want to crowdsource data.
If you are interested in learning more about the applications or interested in training please follow the link here.