Trimble TDC150 GNSS Hand Held Data Collector
The Trimble TDC150 GNSS is a hand-held high accuracy field solution for GIS applications.
Description
The Trimble® TDC150 GNSS handheld receiver is built for GIS users who demand maximum productivity and positioning accuracy out on the job. Offering a fully integrated, ultra-rugged solution that has the flexibility of a handheld, an intuitive Android-based user interface, and scalable high accuracy positioning, the high-performing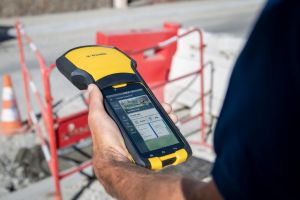 TDC150 is your productive partner in the field.
KEY FEATURES
► Integrated high-accuracy GNSS receiver
► Scalable positioning accuracy from meter to centimeters
► Android™ 6.0 operating system
► 5.3-inch sunlight readable multi-touch capacitive screen
► Google Mobile™ services certified to run Google core applications and services
► Compatible with Trimble or third-party software applications
► High speed 4G LTE cellular data connectivity
► Ultra-rugged design with MIL-STD-810 certification and rated IP67
► Removable, all day battery
► Fast Qualcomm®processor with 2 GB RAM and16 GB internal storage
► Ergonomic form factor
► Front- and rear-facing cameras
Additional information
Weight
1.87 lbs
product_documents_label

Trimble TDC150 Handheld

product_documents

Trimble/Trimble TDC150 Handheld_DS_0319_HR.pdf

Data Collection

Scalable positioning accuracy, from 1 meter down to centimeters, even in the hand. Horizontal and vertical centimeter accuracy can be achieved using a monopole set-up. Collect your field data easily and reliably using professional GIS mobile apps such as Trimble TerraFlex™, Trimble Penmap® for Android™, and Esri® Collector for ArcGIS®.
Integrated GNSS receiver tracks multiple satellite systems such as GPS, GLONASS, BeiDou, Galileo, QZSS, and SBAS for real-time positioning.
Product Documents