Date/Time
Date(s) - September, 25 2019
9:00 am - 3:00 pm
Location
Seiler Instrument - Wixom Office
Categories
Seiler will host a free Esri Collector & ArcGIS Online – One Day Training Class! 

Update – This Event is Now Closed. Class is 100% Booked. 
If you are looking for training on Esri Collector/ArcGIS Online or similar please contact your Seiler Mapping GIS Trainers via email at: [email protected]

This is a special offer to our Mapping GIS clients in the Michigan Territory to get to know us and experience Seiler's services and learn from our experienced professional GIS trainers on using Esri Collector and ArcGIS Online with high-accuracy GPS receivers. 
Description: This training will focus on using Esri Collector and ArcGIS Online with high-accuracy GPS receivers. This will be a hands-on training. The topics to be discussed will include publishing data to ArcGIS Online, prepping the data with GPS metadata fields, custom Collector settings for use with high-accuracy GPS receivers, collecting GPS data in Esri Collector, GPS best practices and data analysis in ArcGIS Online. We will also discuss the benefits and limitations to using ArcGIS Online and Esri Collector for high-accuracy GPS data collection as an alternative to using more traditional GPS software solutions.  Note:  We will not be teaching ArcGIS Online/Collector workflows.

Requirements: Smartphone or tablet that can run Esri Collector
Note:  Seating will be limited to the first 20 registered!  We are limiting seating/registration for up to two (2) persons – per firm.  
Where: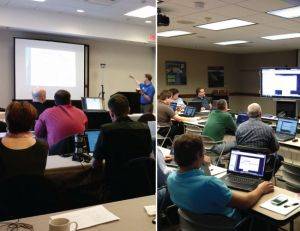 Seiler Instrument
29485 Lorie Lane
Wixom, MI 48393
Date:   September 25, 2019 (Wednesday)
Time:   9:00 a.m. to 3:00 p.m. (sign in/coffee starts at 8:30 a.m.)
Lunch will be included!
This event is fully booked.