Map Unavailable
Date/Time
Date(s) - March, 26 2019
11:00 am - 12:00 pm
Categories
Join our webinar! – How to boost your mapping productivity on large sites with a fixed-wing-drone!

Please join Seiler and Delair Aerial Intelligence for this webinar, which is exclusively for Midwest Surveyors and Mapping GIS Professionals.  Is there, on earth, a surveyor or a mapper who wouldn't be interested in saving time and money, get more reliable data, take less risks in the fields and, in one word, be more productive? The solution is that simple: just fly a fixed-wing drone and move further into the digital era of surveying and mapping.  Register today!  Click on the Register Online link below for full details.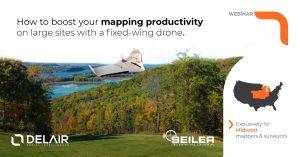 When:  March 26th
Time: 11:00 a.m. to Noon
Register Online & Full Details Here
Online bookings are not available for this event.