Welcome to Seiler Instrument Geospatial, formally Michigan Surveyors Supply & Midwest Survey Supply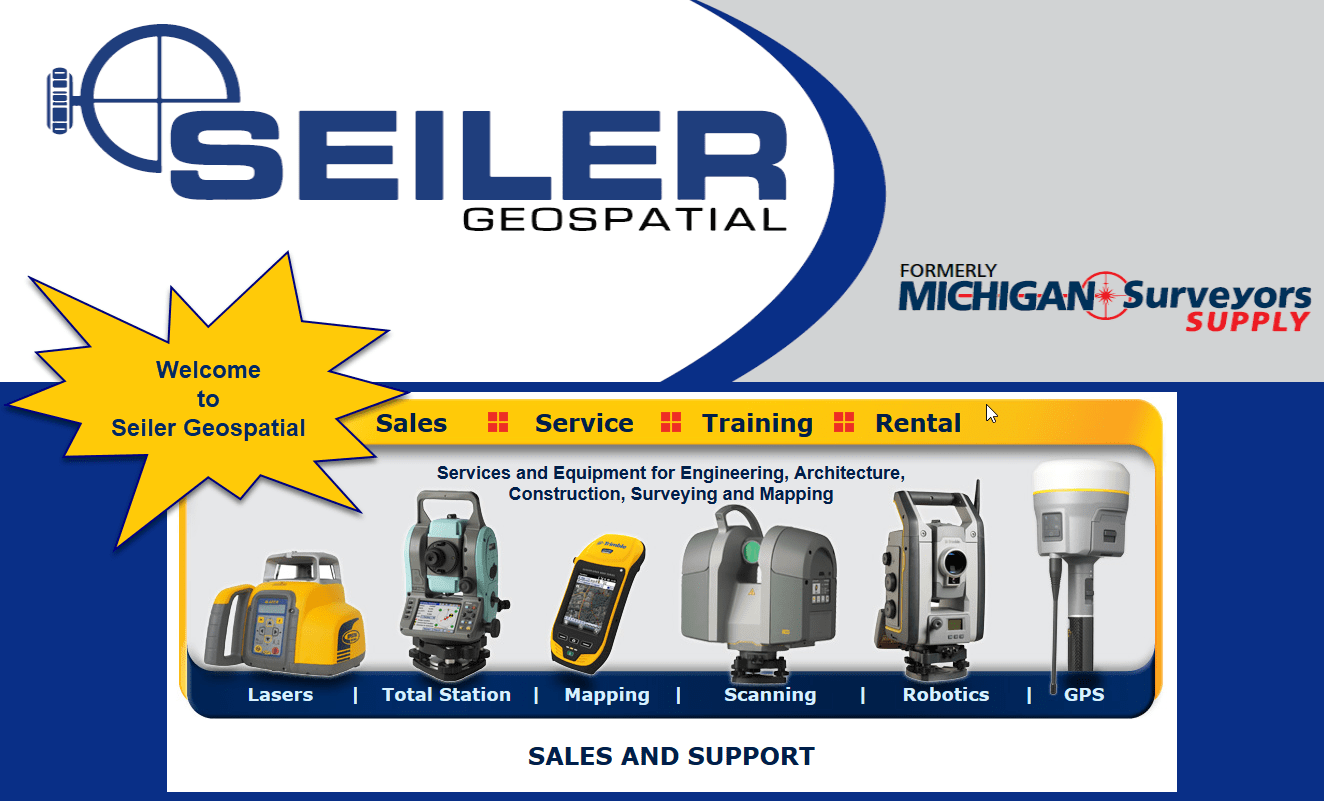 Welcome to Seiler Instrument Geospatial!  On May 13th 2019, Seiler Instrument & Manufacturing Company Inc. acquired the assets of Michigan Surveyors Supply and Midwest Survey Supply operations in Detroit and Lansing, Michigan. The Seiler family is excited for the opportunity to invest and build upon the solid Trimble Survey & Mapping business and relationships established by Jim Driftmyer, previous owner of Midwest Survey Supply, Ted Muns, the sales and general manager,  and the team in Michigan.
Tom Seiler, executive vice president, along with Jim Driftmyer, have worked hard to ensure a smooth transition of the Michigan Surveyors Supply team along with the Trimble geospatial customer partners in Michigan. Per Jim Driftmyer, "Both companies and families have benefited and achieved success through our legacies of hard work, honest and ethical treatment of our customers and employees." 
Ted Muns will continue to lead the team in Michigan as key account and business development for Trimble Geospatial sales along with Michael O'Grady, survey manager of Seiler Geospatial.
Seiler Geospatial will be adding employees to the Michigan industry solutions team with survey and mapping GIS sales domain experts. Additional innovative industry offerings will be added by the Seiler Design Solutions business segment including; Autodesk AEC software, drone solutions from manufacturers such as; DJI, Microdrones and Delair along with the GeoSLAM indoor and outdoor mobile mapping.  Seiler Geospatial plans to feature Trimble Geospatial surveying equipment and software along with  innovative indoor and outdoor vehicle-mounted mobile mapping, and 3D spatial imaging systems.
Per Tom Seiler, "We are grateful for the opportunity to continue growing the Seiler Geospatial team in Michigan and leveraging our deep Trimble survey and mapping/GIS domain knowledge to provide the excellent solutions and services that our customers and organizations deserve and expect.  Our goal is to be more than just a vendor; our goal is to be our customers most trusted and valued partner in helping grow their business." 
We invite you to visit our website and learn more about our diverse family owned business.  We also invite you to watch our company video here. 
If you have any questions or concerns please feel free to Contact us .